I am sad but not surprised that Nan Rich did not win the Democratic primary for governor. The math her supporters used to explain how she was going to win reminded me of this, from science cartoonist Sydney Harris: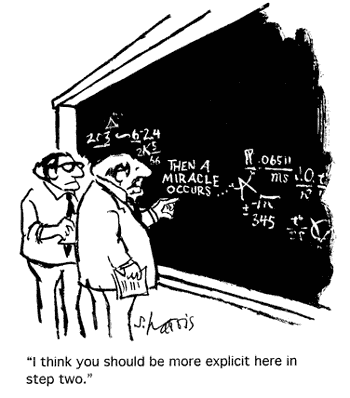 There's a bigger argument, not really worth dwelling on at this point, about why the odds stacked up the way they did. There are many people in Broward who had a deeper emotional stake in the Nan Rich campaign than I did, and I wouldn't blame them for being bitter — except that it is important that they set that aside and work for Democratic victory in November. Still, I believe Charlie Crist could have shown more decency and respect in the way he pursued his campaign, rather than pretending the primary was over before it had begun.
That was the biggest reason I voted for Nan Rich, even understanding that a victory for her would require some sort of miracle.
I accept that Charlie Crist is a strong candidate for November — and that many good Democrats either liked him all along or simply believe he presents the party's best hope of victory over Rick Scott.
Curiously, just before primary day, I received the following email:
David —

As one of our best supporters, we're saving a spot for you at the primary night reception with Charlie, Annette, and the team.

All you have to do is claim your free ticket today:

http://action.charliecrist.com/RSVP-for-Election-Day

Just add your name to let us know you want to come. We'll follow up with info on how to pick up your ticket.

See you Tuesday!

Charlie Crist for Governor 2014
Funny, I'm impressed by the Crist campaign machine on many levels, but if the web team knows enough to personalize this message with my name, shouldn't they know that I am not "one of our best supporters"? Not yet, anyway.